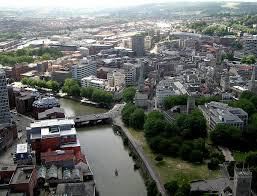 Bristol.
I chose bristol for start my partnership with an english school.
Bristol is located in the south west England.It is at 931 kilometers .There is an airport in Bristol, so it's practical to go there, but we can go there in train.
I chose this city because there full of monuments to see such as The Clifton Suspension Bridge,Wills Memorial building,Cabot Tower and many other.And for a scientific student there is the well-known At-Bristol .
In 1300,Bristol was a very important port,it was the third largest city!During World War II, the city center suffered numerous bombings including some effects are still visible today.
Bristol is a lively place with festivals and parties happening every week throughout the city. Bristol host a packed programme of events with an exciting mix of music, literature, entertainment and outdoor fun.
I do not know about you, but I think Bristol is an exciting city, cultural, scientific but also on the fun level.
Thank you for reading.