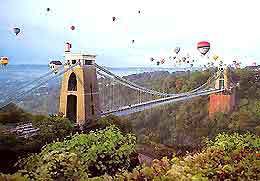 I think we should start the partnership with a school located in Bristol.
Bristol is located in the south west England, at two hours from London. From our school, it is at 931 kilometers (or nine hours of road). There is an airport in Bristol, so it is very practical to go there, but we can go there in train with the Channel Tunnel.
I chose this city because, according to me, there is a lot of places of interest which are worth visiting there. There is the « Clifton suspension bridge » (a symbol of Birstol). There is also a lot of churches, cathedral and chapel that we should definitely visit like St Mary Redcliff church, the Bristol Cathedral or, the John Wesley's Chapel or « the new room ».There is a lot of others places of interests in the area and I'm convinced that it will be very interesting to visit it. There are the Bristol Balloons and the Bailey Balloons, thanks to them, we can see Bristol from the sky! Also we can visit the BBC places, and museums like the Bristol Museum and Art Gallery (an artistic, archaeology, egyptology and history museum).
I chose this city because, it seems to me that Bristol has an interesting story. It was a city which practised a maritime business thanks to its important port. In 1300s, it was the third city of England at the population level! The city was an actress of the Hundred Years War. It was impacted by the second World War, that concern us too, so we should definitely interest us in Bristol's history.
To finish, we should definitely go there because this year, there is several interesting events like contemporary dance shows, theater shows etc.. In October, there is a international movie festival « the wildscreen ». It is known in all the world and it is a chance if we can go there! Also in October, Bristol organize its own music festival, The Festival of Song : it is 10 full days of music, with a rich diversity of genres. Don't you think that it is so cool? We can do sports activity too with the Adventurous Activity Company which allow to do mountain biking, abseiling, canoeing in the centre of Bristol! And this year, there is the harbourside games, the goal is to do sports after work, with a GB olympian on your team!
Don't you think Bristol is an enriching and interesting city? Have you seen all the things we could do if we go there? It is a very good city to study and I'm convinced that it is the city we should chose to start the partnership with a Bristish school.
Margot Boutin.